101 COPENHAGEN
101 Copenhagen is a Danish design brand founded in 2017. With a vision to honor exquisite quality and craftsmanship, the collection encompasses furniture, lighting and accessories in a timeless, yet modern design. With a true passion for materials and refined textures, organic shapes and colours, 101 Copenhagen presents the epitome of classics and must-have novelties for Scandinavian and international interior connoisseurs alike.

The design of 101 Copenhagen is firmly rooted in the Scandinavian soil and nourished by Japanese minimalist aesthetics. Sharing an emphasis on quality materials, techniques and traditions, the meeting between the North and the East is notable in the holistic collections of 101 Copenhagen. The design approach is dynamic and characterised by freedom of expression - creating unique and timeless pieces without compromising on playfulness and individualit. 
DISCOVER MORE
OUR DESIGNERS
An attention to detail and a shared sense of aesthetics is what drives the two main designers of 101 Copenhagen, Tommy Hyldahl and Kristian Sofus Hansen. Merging their backgrounds and experiences from the fashion industry, the Royal Danish Academy of Fine Arts and travels in Japan respectively, a narrative of minimalist, sculptural and conceptual design is evident throughout the collections.
Translating and transforming the simplistic inspiration from Japan in a Scandinavian context is all about honouring quality, heritage and materiality while never seizing to compromise on form and function. Trained as an architect, the third designer, Nicolaj Nøddesbo, adds knowledge on innovative light solutions and timeless novelties to the 101 Copenhagen collections. 101 Copenhagen is a curated selection of tactile, bold objects standing out in a crowd and gathers as a whole.      
DISCOVER MORE
HANDCRAFTED MANUFACTURING
Our handcrafted manufacturing process is a meticulously crafted journey that lends each piece of furniture and vase its own unique personality. Unlike mass-produced items, where uniformity is the rule, our creations embrace subtle variations and an organic texture that truly set them apart. This not only makes each piece one-of-a-kind but also resonates with discerning customers who appreciate the value of craftsmanship, individuality, and artistic expression in their living spaces.

The cornerstone of our products lies in the 'organic roughness' a quality that truly distinguishes our furniture and vases. This natural imperfection arises from slight variations during handcrafting, which is not a drawback, but rather a signature trait that signifies authenticity and artistic integrity.

From inception to completion, our skilled artisans are deeply involved in every step of the process. Each piece undergoes multiple rounds of hand-painting, sanding, and shaping, making it a canvas of intricate artistry rather than just another piece of furniture or decor. This meticulous attention to detail results in characteristic colour schemes and designs that are uniquely our own.

For those who seek more than just utility in their purchases, who see their surroundings as an extension of their individuality, our pieces offer that rare combination of form and function where each piece is not just designed but also 'sculpted' to life. These are not mere items of utility but tangible pieces of art, imbued with the touch of the human hand.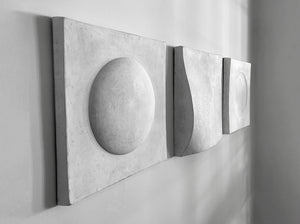 SUSTAINABILITY
101 Copenhagen is driven by creating long lasting products of timeless design. With a passion for refined materials, textured colors, and organic shapes, we have built long times partnerships with few selected suppliers on making products of high quality and durability.
With a focus on natural materials, our collection is characterized by ceramic, concrete, and metals.
Together with our suppliers we are constantly optimizing our products according to the newest environmental and sustainable standards of production. This also includes optimization of current materials and finding replacement materials with same durability but in a circular economic mindset so we can guarantee a better EOL "end of life" potential of the material and product.
Our ceramic products are made of 100% ceramic and the paint does not contain any harmful chemicals.
We strive to optimize our fiber concrete products, so the concrete mixture does not contain polyester.
The lighting collection is CE certified, to assure high quality and safety for our customers.
We are developing polystyrene-free packaging for our lighting collection, to only use recyclable cardboard in the future. We strive to continue developing packing that can optimize our freight situation in terms of flat packing to use as little space as possible.
VIEW
MATERIALS & MAINTENANCE
You can find all our Materials & Maintenance guides in our library. The library serves as a repository for all relevant information and resources, and it's a one-stop-shop for everything you need to know about the materials and maintenance of your products or systems.
VIEW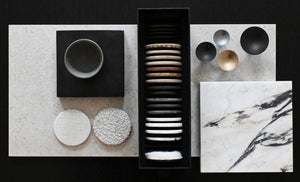 VISIT OUR SHOWROOM
For proffesionals only, you can get inspired by our news and signature collections at our showroom in the heart of Copenhagen. (By appointment only)
REQUEST APPOINTMENT
CONTACTS & AGENTS
Find the right contact person according to your location.
VIEW
WANT TO BECOME A PARTNER
Want to become a retailer or do you have a project you want to propose?
REQUEST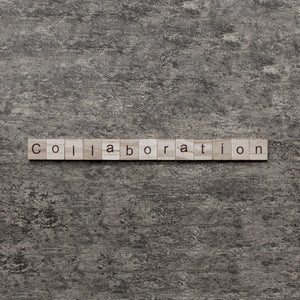 JOIN OUR COMMUNITY
We work to create long standing relationships and value the collaborative spirit. Send a request if you have a collaboration you want to propose.
SEND REQUEST